Larage Site Plan Download and print the entire flyer

On this site you can find interesting information about our villages and folklore exhibitions if you like to gather some information before your visit or look up interesting facts after your visit. Also feel free to use your smartphone to have all the information during your visit. In the outdoor area you should not have any problems with your internet connection. Inside the buildings we recommend to approach a window in order to improve your connection.

On many sites of this guide you will not only see picture galleries but also videos. Some were shot at the opening of the particular object, others are poems in Moselle-Franconian dialect by local authors, that were recorded inside of that building. The video on this site is the story of "Max & Moritz" in Moselle-Franconian dialect and includes almost all parts of the museum.


The Roscheider Hof estate, which has been preserved in situ, i.e. in its original location, is the nucleus of our museum. It houses the majority of the folklore exhibitions. It is supplemented by several transferred buildings buildings, a rose garden and a herb garden. Next to the courtyard are the museum's agricultural areas.
Around the goods hall with railway siding are shelters for trucks that transport the goods delivered by rail to their destination. Next to a vineyard are 2 small winegrowers' houses from the Konzer Tälchen.
Hunsrückweiler is the first museum village to be reconstructed by the Roscheider Hof Open-Air Museum and the town hall was the first building to be relocated to the museum. The project was completed in 2008 with the opening of the schoolhouse from Würrich.
Visit our museum gardens, fields and orchards, the forest stage, the forest museum and our shelters.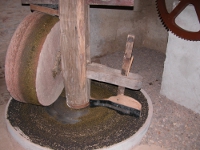 The mill in the valley of the Niedermenniger Bach dates back to the mid-19th century and was still in operation until the 1960s.