The toy collection of Professor Barbara Schu from Cologne University of Applied Sciences is on display. Over 5000 pieces have been collected by the widely travelled textile designer. She originally bequeathed her collection in 1988 to the Cologne Rautenschrauch-Joest Museum. As the museum was not in a position to exhibit the collection permanently in its entirety - as provided for in the will - in 2005 the collection came to be housed in our museum. Thanks to support from the town of Konz and the Trier Sparkassen Foundation it was possible for us to furnish the last empty room in our estate building, more or less a shell, so that it was suitable for permanent presentation of this collection.
The collection is partially presented in the mahogany cabinets that also belong with the collection. One main part of the collection is an extensive assortment of rare wooden toys from the Erz Mountains (in Eastern Germany), that is impossible to find in such variety and quality, either in private collections or in museums outside the Erz Mountains. Another main part includes dolls covering a broad spectrum of folk art, tradition and souvenirs from Latin America, Russia and Asia. These were usually sold to tourists as holiday souvenirs, but do play an important role in the traditional customs of the countries where they originate. The exhibited items are for the most part dolls, which were not however necessarily intended for playing with, decoration or presents. For folk art was not only made for everyday use, but often stemmed from popular beliefs and the related religious or magical customs.
There are no clear-cut boundaries between folk art, i.e. objects made by hand according to traditional models of an ethnic group, and souvenirs usually made especially for tourists. For instance, in Mexico, tourists are sold especially beautifully crafted figures of the devil, which are also arranged by the natives at Easter as a personification of the symbolic victory over evil. In Japan little dolls with miniature household appliances are lined up in the home in seven-layered pyramids on the occasion of the spring festival, in order to give girls an ideal picture of society, and in India it is common in some areas to decorate a house altar for the "dusserah" festival with miniature toys that are also on sale in this country.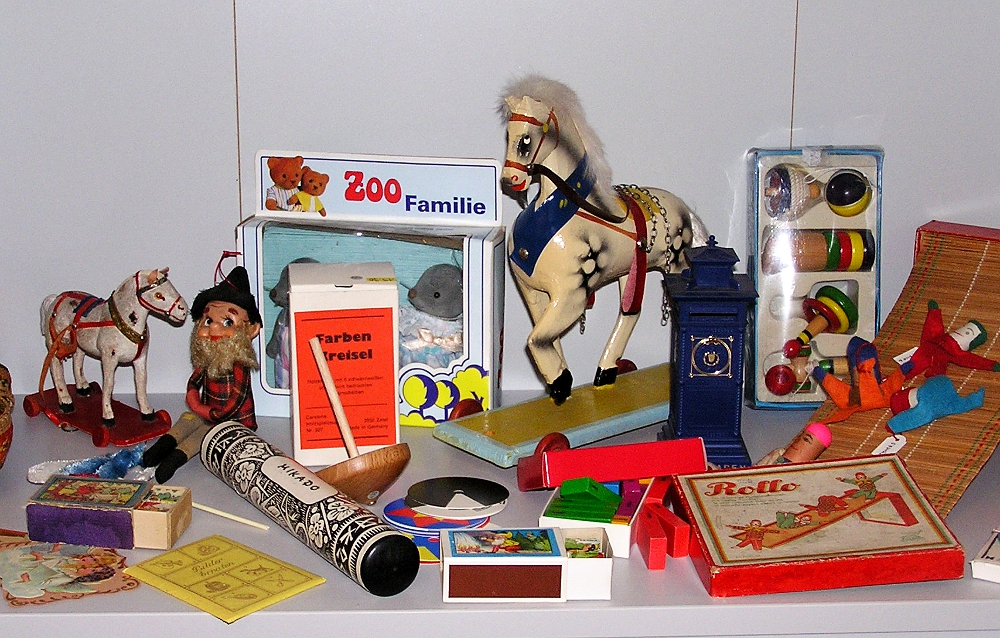 Items in the exhibition are organised according to a historical-folkloristic context. Most of these figures originate from areas that are economically depressed, areas where people produce figures like these working from home for lack of other employment opportunities. What is amazing is the enormous strength of mind people with very little means demonstrate in keeping their heads above water.
Videos:
Eröffnung der Dauerausstellung "Spielzeug aus aller Welt" Sammlung Barbara Schu