The permanent exhibition of tin figures (the tin figure museum) from the collection of Prof. Dr. Gerteis was opened on 8th May 2005. There are many thousands of figures arranged in the estate's 220 m2 loft, by no means not only tin soldiers but a small world made of tin, as it were.
The collection of tin figures (over 40,000 by now) that is familiar to collectors and had been on exhibition in Aach for ten years has found a new and attractive abode here. Apart from a few of the items on exhibition the figures from Prof. Dr. Gerteis were amassed, produced, painted and arranged in diorama by Prof Dr Gerteis in over five decades of collecting.
The exhibition is classed under four different aspects:
Firstly: The development of tin figures from around 1800 is illustrated using old figures and casts from old moulds, and an attempt is made to classify the figures as testimony to central European cultural history during a period lasting a century and a half. The collector of old figures will be able to discover the odd rarity here. Although flat figures predominate overall, there are also examples of full and semi-plastic toy figures in the display.
Secondly: The exhibition takes the personal focus of interest of the collector into consideration. So "packets" from the most diverse workshops are displayed in special showcases (from the 1/8 original plywood box to the "battle pack") and the history of the tin figure shop is documented (from Zeumer, not just the famed pea cannon "ready to be fired" but also several of his model strips). Another main focus of the collection is on the old tin vehicles (from Allgeyer and Heinrichsen right down to Patzsch). One showcase also displays games with tin figures.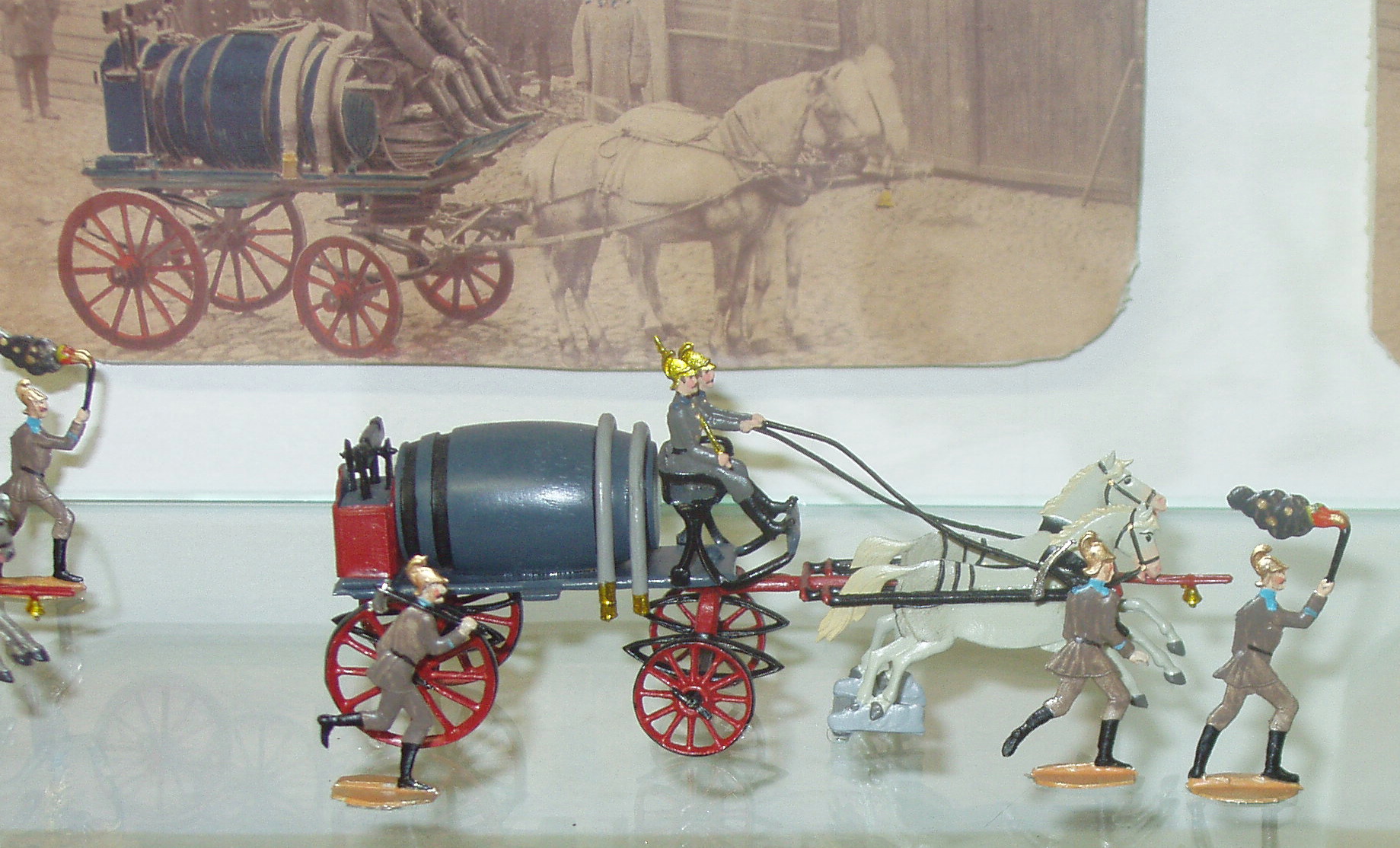 Thirdly: Topics mainly covering the history of the region are depicted in diorama with cultural and historical tin figures: Gallo-Roman rural life, wine-growing, wine transport and consumption of wine, mining in the 16th century, the capture of Luxembourg in 1684 (featuring about 800 figures), the battle of Pellinger Schanzen in 1794, Napoleon in Trier in 1804, the revolution of 1848/49 in Trier, rural scenes from around 1900 etc.
Fourthly:In a show workshop there are demonstrations with engraving of the moulds, casting and painting of tin figures.
Videos:
Eröffnung der Zinnfiguren Ausstellung im Freilichtmuseum Roscheider Hof, Konz
Wie eine Zinnfigur entsteht; Demonstriert von Klaus Gerteis in der Zinnfigurenabteilung im Roscheider Hof
Was ein römisches Legionslager? Über die gallo-römische Geschichte berichtet, Klaus Gerteis zum Zinnfiguren Diorama von H.-J. Graul, Neuss