The building was dismantled in 1989 in the Hunsrück village by museum staff, reconstructed in loving detail in the museum grounds and re-opened in 1998. It is a building two rooms deep, typical for the Vorderhunsrück, and dates to around 1830.

During extensive redesign in 1915 the original stunted hip roof, among other things, was removed with the result that the building gained its current characteristic appearance with a pitched roof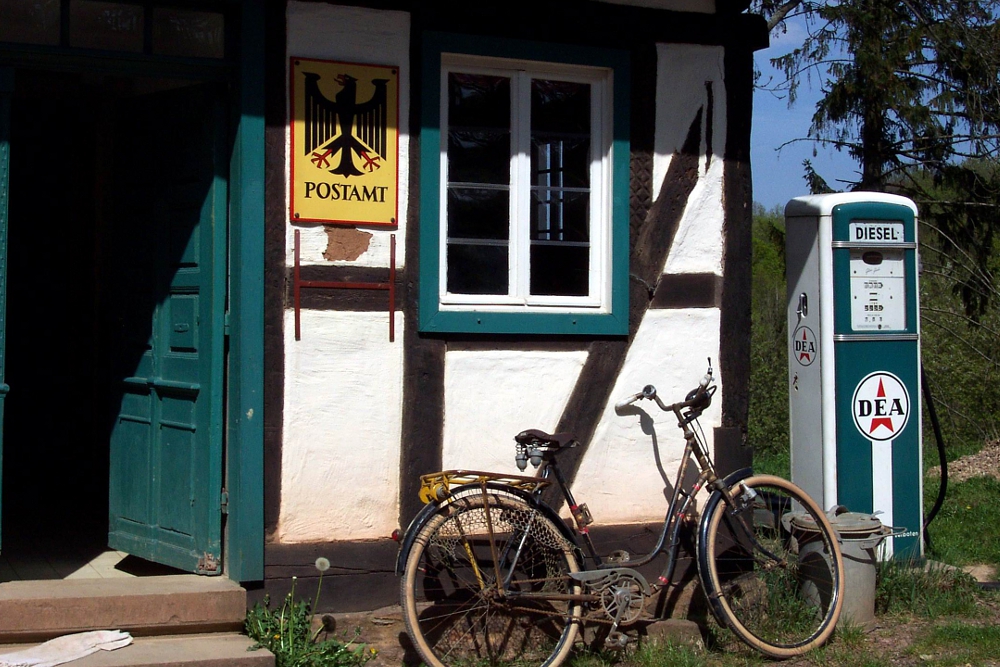 The building has been furnished by the museum as it might have been in the early 1950s, a period when there were signs of the economic miracle. The furniture is a particular mix of older pre-war items dating and furniture typical of the 1950s.
The parlour containing the original niche for the alcove has been set up as a rural grocer's and post office. Post offices like this provided the postal service for the countryside even after the Second World War and were often combined with the stop for the post bus. This makes sense of the bus stop sign which is on the outside of the building. Right next door on the corner of the house there is a garage petrol pump from the 1950s. It also indicates the changing times in post-war years, when many innovations arrived in the Hunsrück villages.
The house from Mastershausen is somewhat different from many other buildings in the open air museum: it illustrates the living and working conditions of a rural family, which was still very much influenced strongly by the farming community but which had a special position in the village due to the shop, post office and garage.
On the ground floor of the house, a Kolonieal goods shop was set up during reconstruction, where goods can also be purchased during Living History Days. Opposite, in a small room, is an imperial village post office
.
Videos:
Den aalen Baam (Der alte Baum), Oberbilliger Platt mit Karl-Heinz Zimmer
Helmut Leidendecker Voaknallt