Dining room in "neo-Biedermeier" (about 1910)
The Biedermeier style was revived in furniture design from about 1900 on as a somewhat more severe variation of art nouveau. This development was started by artists like Franz von Stuck and Peter Behrends. In contrast to the Biedermeier period of the 19th century, now industrially manufactured products were available, which a greater number of people had access to. Seats of the chairs made from bentwood gave an impression of expensive inlay work, while they had merely been stained using stencils. The wallpaper of the room also lends an appearance of costly silk wall covering, although they have just been printed with a type of woven pattern. Even the ceramic crockery on the table is not decorated by hand painting as in the Biedermeier period, but with the copper transfer process, in widespread use since the mid-19th century. Furthermore spruce was used frequently - as with the dresser on display - and given the appearance of high-grade woods with a veined coating of paint on a linseed oil base

Biedermeier bedroom:
Bedrooms are for sleeping in first and foremost but they are still furnished rather splendidly by the middle classes in the late Biedermeier period. The return to the private sphere is also expressed here during this period. The furniture is chiefly made of fruitwood. There is a wedding dress on display in the walnut wardrobe. The bride looks out from the wedding picture over the bed. The matching bridal shoes are made of white Atlas silk. The bed itself still had one mattress at this time. Not until the second half of the century were separate, adjacent matrimonial beds introduced. Because the beds were narrow, which had its advantages in winter, there was a ledge around the bed to prevent the sleepers falling out during the night. Next to the dressing table with its matching mirror, which is particularly important for the female race, the "pitcher and bowl" demand special attention. They not only had the same role as the later wash basin but were often a substitute for the bath tub.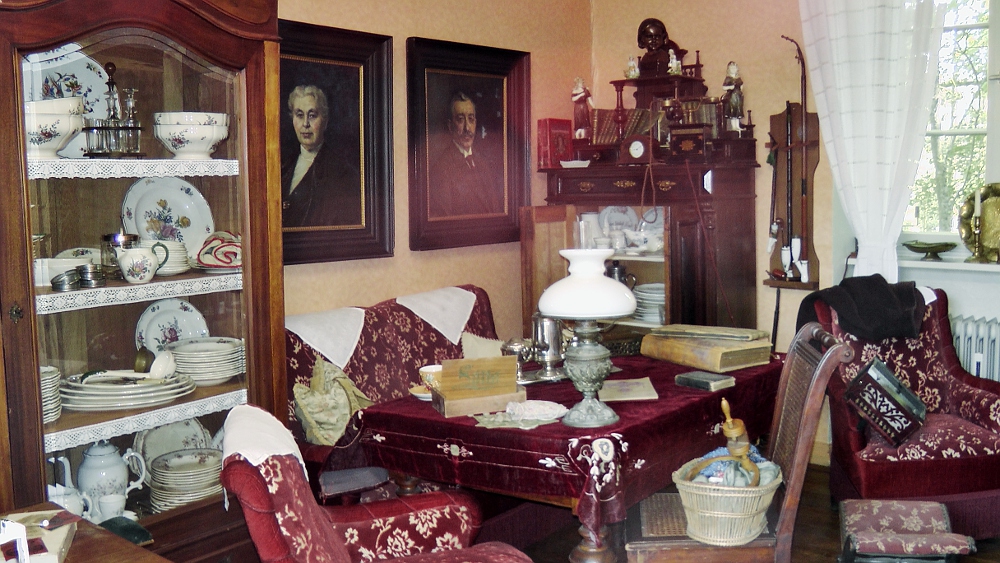 Room from the Promoterism period:
The furnishing style from the Promoterism period was marked by pride in the founding of the nation state in 1871.Everything was allowed to be grander, more impressive and more dignified. The character of the new style corresponded to the mood of the ever more affluent middle and upper classes. Solid furnishings, dark panelling and heavy velvet cover express a new self-confidence.